La Famiglia, Friends and Relentless Customer Service
The Western Nevada Supply story began with two men who genuinely cared about customers and their needs. No huge, faceless corporate investors, just two men with a dream.
"As Western Nevada Supply approaches 60 years in business, we celebrate those who have helped us get where we are today. We are especially grateful to our incredibly loyal hard-working employees and deeply loyal customers we have the honor to serve."
Western Nevada Supply started with two men and a dream. That dream turned into a vision, with persistent determination, mountains of dedication and a tireless work ethic WNS was formed. Now, almost 60 years later, that dream has grown into a company that serves thousands of contractors and builders in multiple states.
Our Simple philosophy, "Serving the needs of the customers, employees, and the community" is what makes us successful. We work relentlessly to accomplish that everyday.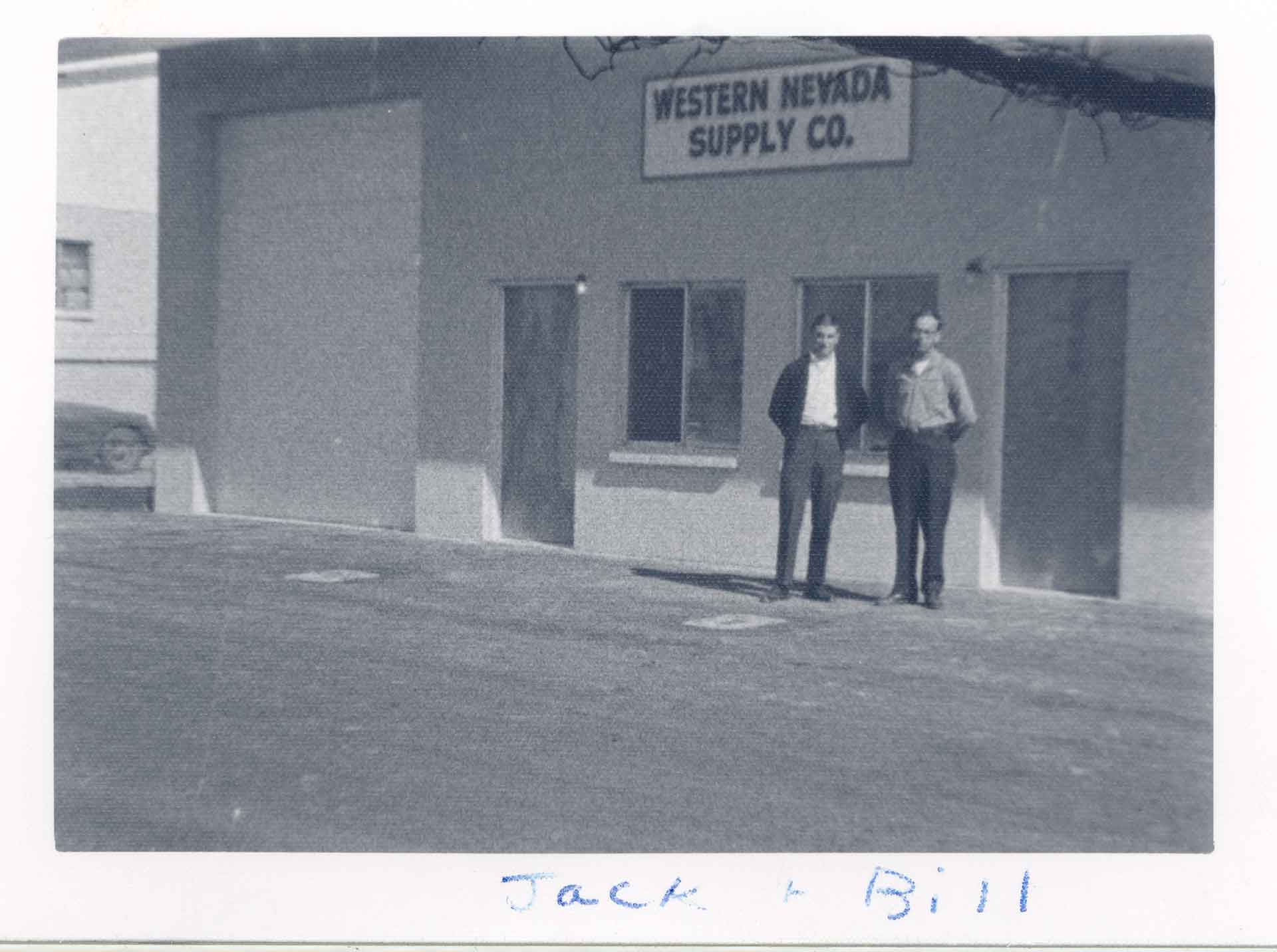 The Blue Team
The "Blue Team", is our proud team concept, the result of that dream by Jack Reviglio and Bill Higgins. Jack and Bill subscribed to the philosophy of providing unparalleled customer service to EVERY customer, big or small, each and every day.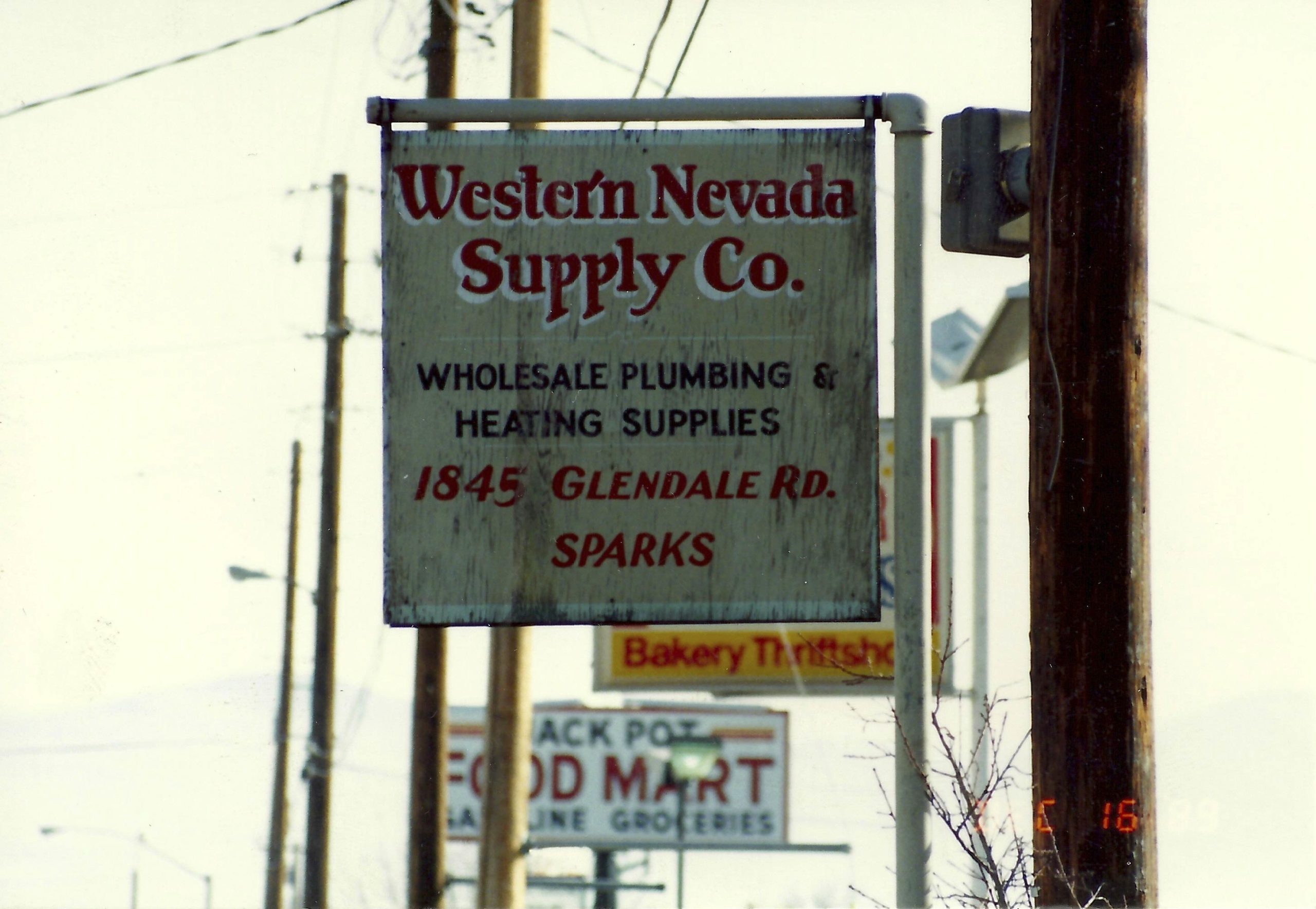 Western Nevada Supply opened on February 3rd, 1964 with humble beginnings in a rented 1,200 square-foot warehouse on Glendale Avenue in Sparks, Nevada.
That modest wholesale plumbing house quickly grew and in 1967 Jack's brother, Tom Reviglio, joined the firm. Soon, due to Jack and Bill's unending quest for customer service, as well as Tom's marketing talents, we expanded with the addition of a Water Works Sales Department, and relocated to a 7,000 square-foot facility on 2-1/2 acres.
In 1973, growth again required another move; this time to our current location on South Rock Blvd. This location started as a 3.5 acre site and has expanded to 22 acres with 125,000 square-feet under roof. To better serve our outlying areas, we've opened branches in Elko, Carson City and Winnemucca, Nevada. In addition we expanded into the California market with branches located in South Lake Tahoe, Bishop, Susanville, and Truckee.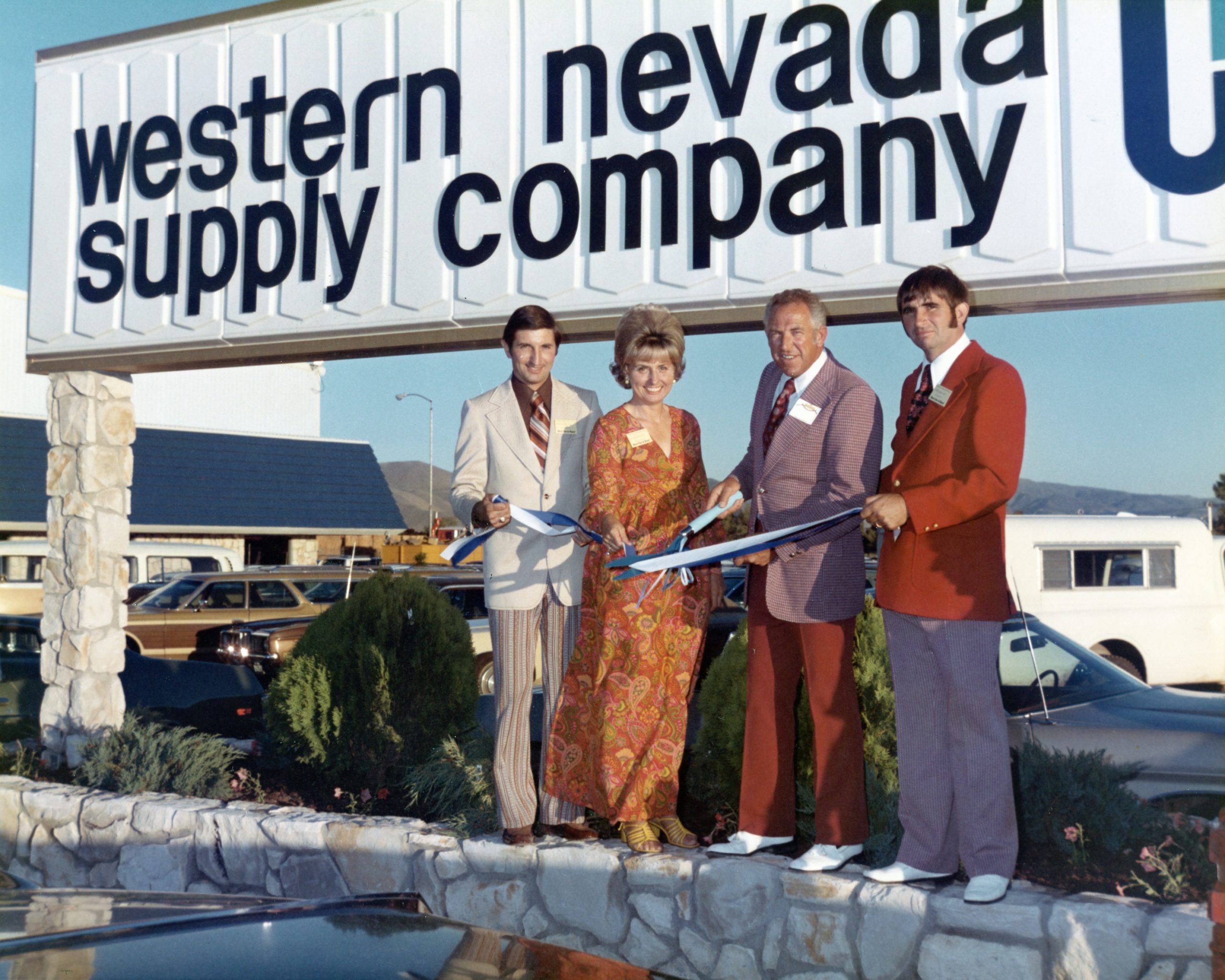 A New Generation Takes the Reins
Today, a second-generation of Reviglios are running the family business, embodying the values passed down.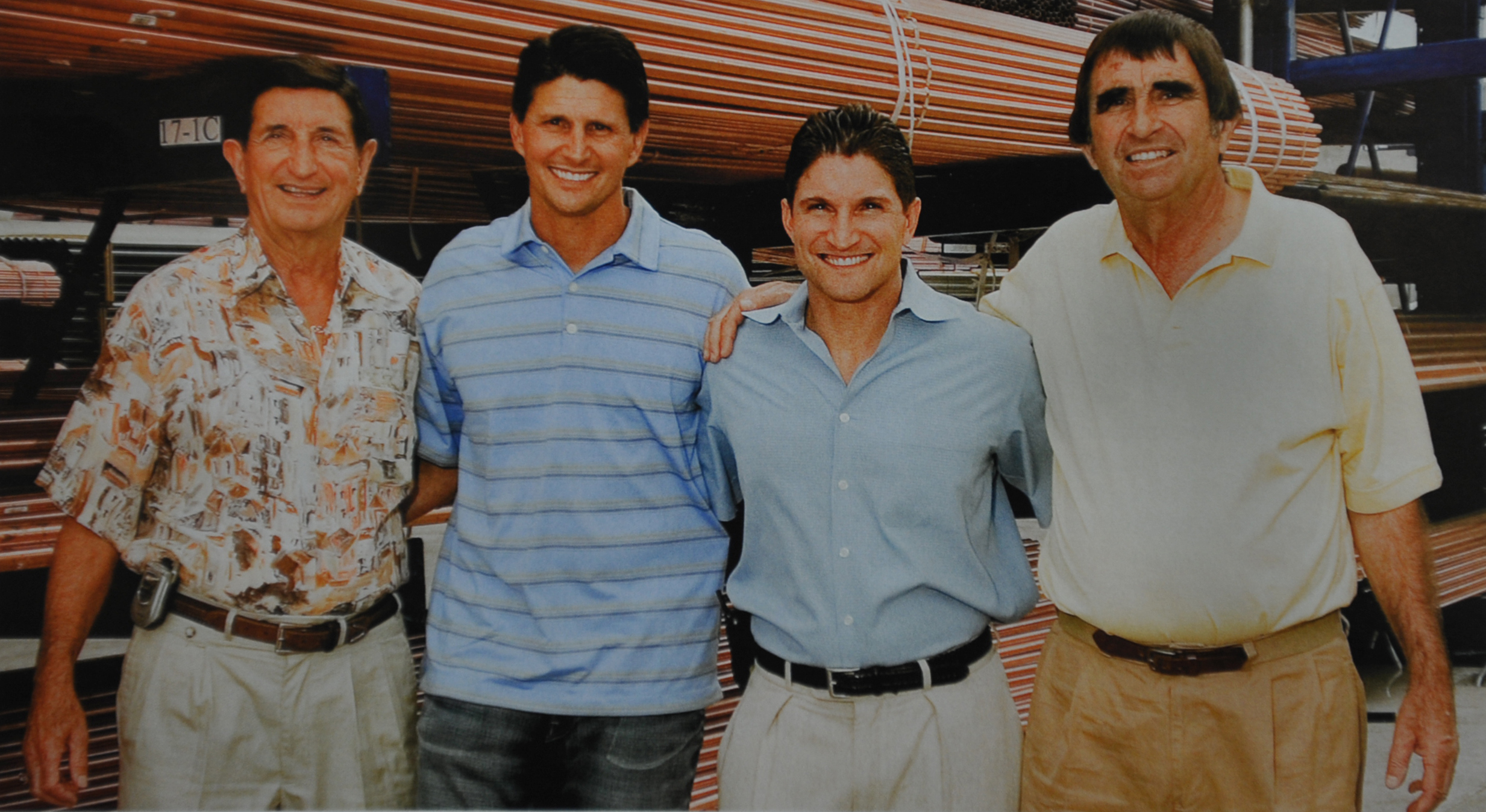 From Left to Right: (Jack Reviglio, Ted Reviglio, Rick Reviglio, Tom Reviglio)
Jack's oldest son, Ted joined the business in 1983. Ted worked in the HVAC Department before taking over the Branch Manager positions in Elko, Carson City, and Truckee. Ted's love and devotion to his customers and incredible depth of product knowledge brought him into his current position as Vice President, working primarily in the branches with customer relations.
Jack's son, Rick, followed a different path to Western Nevada Supply. After graduating from Saint Mary's College in Moraga, California in 1988, Rick wanted to further his knowledge of the industry. Rick took a position with Grinnell Supply Sales, a manufacturing company of plumbing products. He spent 5 years with Grinnell, cut his teeth in the business and joined WNS in 1992. Using his background in finance and distribution, Rick brought Western Nevada Supply into the computer age. Western soon became fully automated with the first computer system that included point of sale, inventory control, collections, finances, and stronger customer service tools. Seeing a need in our outlying communities, Rick worked tirelessly to bring branches to locations that were at one time only serviced by truck. Rick expanded the Elko location and opened branches in Carson City, Winnemucca, South Lake Tahoe, Bishop, Susanville and Truckee. Rick now leads the company as President and General Manager.
Our recently completed dynamic, state-of-the-art, Kitchen & Bath Showroom "Inspire" is among the best in the country. Our "serving the needs of the customers" philosophy means having the most qualified people in the industry for our customers. It means a spectacular inventory, so that our customers can get what they need, a large truck fleet so our customers get their orders delivered fast, and extended hours of service, so our customers can get what they need when they need it. The Blue Team provides a level of customer service that is unmatched.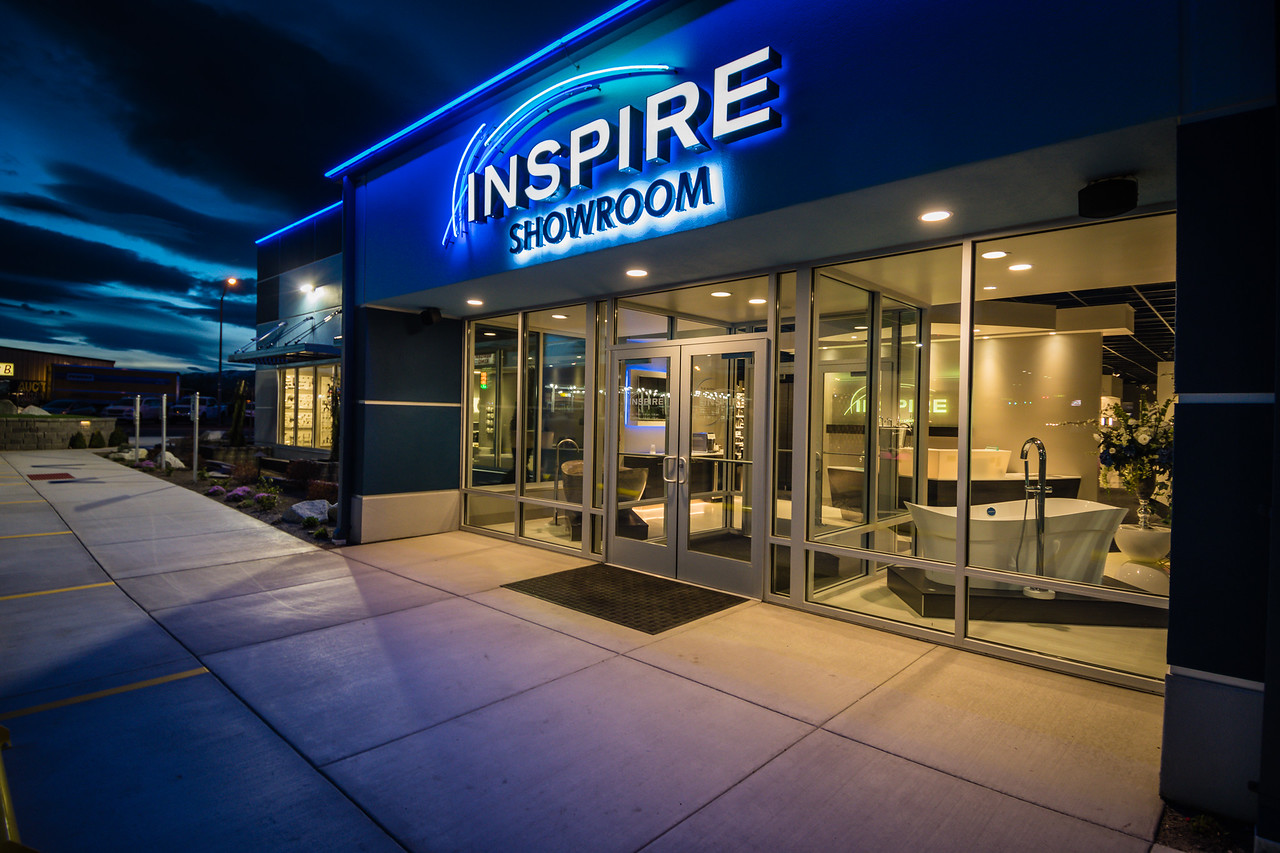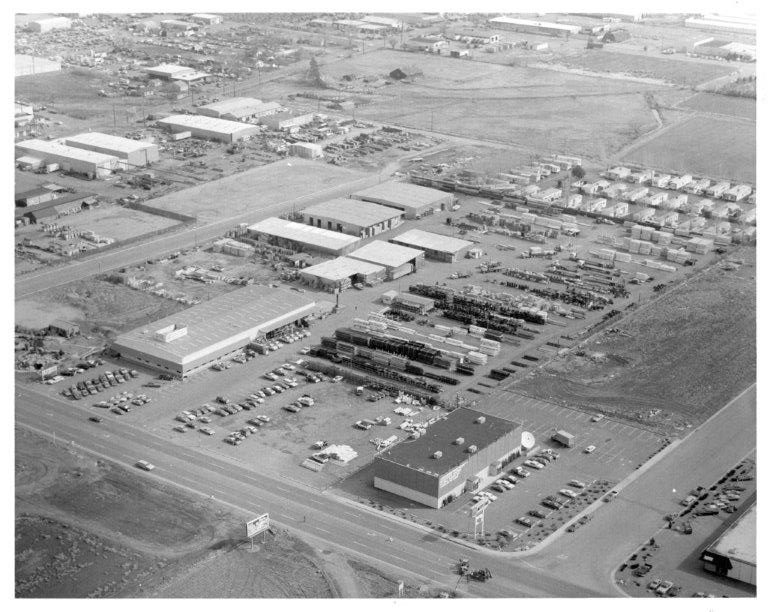 Aerial of Western Nevada Supply: 1979
Western Nevada Supply's appeal has stretched far and wide beyond contractors and builders. Throughout the years we have started working with City, County, and State Managers as well as gold and silver mines, hotels, casinos, and service retail stores. Everyone can rely on the Blue Team for supplying essential materials and expertise for any size job. Our trustworthy reputation is evident in the wide range of professionals we service – from small individual contractors to the largest ones, and in the broad diversity of jobs in which we are involved; from a small house remodel, large custom home, small or large commercial projects, new subdivisions, golf courses, large water treatment plants, mines, hotels and casinos.
This superior level of service did not happen overnight. In pursuit of meeting our customer's needs, the Blue Team is always innovating, adapting and creating. In the 1970s, long before cell phones, Western Nevada Supply was the first company to carry radios in its large fleet of trucks, enabling drivers to be more flexible and efficient at meeting the needs of our customers. To build on keeping our customer's needs first, Western pioneered on-site job vans stocked with building materials to be readily available at job sites. We have over 400 job vans servicing our customers today.
Giving Back
While the Reviglio Family and Western Nevada Supply have made a commitment to our customers like no other, we also have an undying love for filling the needs of the community.
We are extremely active in fundraising efforts for local nonprofit organizations and educational institutions. From the Reviglio Family to our amazing employees, we have raised funds, volunteered time, and given generously to every cause imaginable. We are not only focused on the immediate needs of the community but also that of the future. Western Nevada Supply has welcomed many local youths to spend their summers working for the company throughout the years. Many continue to work part-time while attending school, and several have come to work for the company full-time after graduation, making it a career.
Because of our dedication to serving the needs of their customers, employees and the community, we maintain a reputation of honesty, skill, integrity and responsibility. A relentless approach to our vision and mission, sound management practices, and loyalty to those who make it possible have made Western Nevada Supply one of the most successful businesses on the West Coast